PrimeSouth Bank Graduate Photo $100 VISA Gift Card Giveaway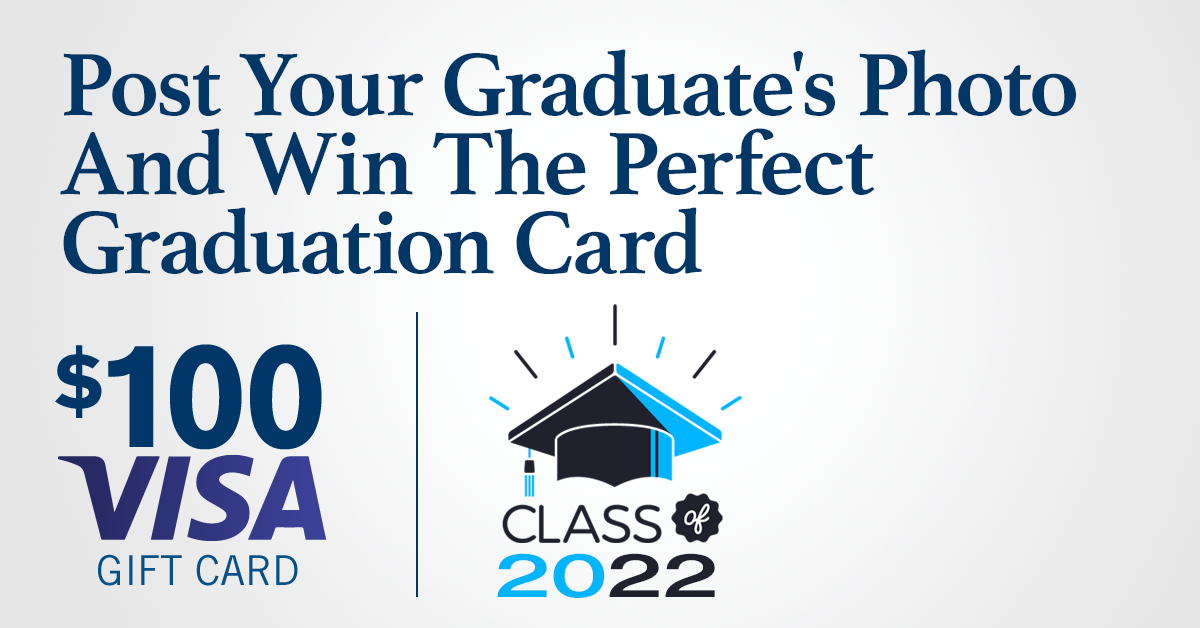 Whether they completed Kindergarten or College, post your graduate's photo to our social channels and you could win a $100 Visa Gift Card. Don't just graduate with honors...graduate with cash! Post your favorite photo between May 9th – May 23rd with the hashtag #ClassOf2022. We'll draw a winner from all those that posted!
Go to: https://www.facebook.com/primesouthbank
Go to: https://www.instagram.com/primesouthbank
_______
Here are the official PrimeSouth Bank Graduate Photo $100 VISA Gift Card Giveaway rules:
I. Name of Promotion Administrator: PrimeSouth Bank, 710 Gloucester Street, Brunswick, GA 31520. This promotion is in no way sponsored, endorsed, administrated by or associated with Facebook or Instagram.
II. Eligibility and Registration Overview: PrimeSouth Bank is offering an opportunity for one lucky individual to win a $100 Visa® Gift Card as we celebrate Graduation. The PrimeSouth Bank Graduate Photo Contest is an opportunity for individuals 18 years of age and older (at the time of registration) and a resident of areas that we serve. PrimeSouth employees and immediate family members may participate in the promotion but are not eligible to win the prize. To enter, a photo of your favorite graduate photo should be posted on PrimeSouth's Facebook Page (www.facebook.com/primesouthbank) or Instagram page (www.instagram.com/primesouthbank) with the hashtag #ClassOf2022. It is the individual's discretion as to what information/text they want to include with their picture entry, or they can simply just post the picture. No purchase is necessary to win and one entry per person is allowed for registration purposes. No PrimeSouth banking relationship is required to enter. Once the promotion time ends, all names of registrants (including alternate registrants) will be entered into a database to verify that there are no duplicates and a winner will be selected at random. If a duplicate entry is found, only one entry will be eligible for the promotion prize. By entering the contest, the entrants agree to all of our contest rules and regulations and release Facebook of any liability for this promotion.
An alternate form of registration is available at all PrimeSouth Bank branch locations. The alternate form of registration consists of a sheet of paper that the individual must complete that asks for their name, phone number and email address. Once the individual has completed the registration form, they can give it to the PrimeSouth employee along with their photo and it will be forwarded to the Marketing Department to be entered into the promotion.
III. Promotion Entry Period: The promotion period begins on Monday, May 9, 2022, at 9:00 AM (Eastern Time) and ends on Monday, May 23, 2022 at 5:00 PM (Eastern Time). No entries will be accepted before or after the promotional period. The winner will be contacted by Tuesday, May 24 and we will post the winner's name on our page. After the winner has been posted/notified, it is the winner's responsibility to make contact with PrimeSouth to arrange prize pick-up by messaging us on Facebook or contacting our Marketing Department at 912-265-1710. From there, Marketing will work with the winner to arrange prize pick-up and a photo opportunity at one of our PrimeSouth Bank branches.
IV. Prize Details: The PrimeSouth Graduate Photo Contest Prize consists of one $100 Visa Gift Card. The lucky winner has the month of June 2022 (during regular business hours) to retrieve their gift card.
V. Chances of Winning: Chances of winning depend upon the number of entries received by registrants within the promotional period.