Our bank is built around you.
At PrimeSouth Bank, you're more than an account number. We take the time to get to know your name, your preferences and your needs. Take a look at some of our clients' stories below — and reach out to tell us yours.
Addie and Craig Head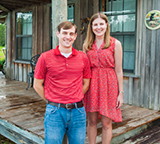 Addie and Craig had heard good things about us. But they're attorneys. They needed proof.
Addie Gibson and her husband Craig Head know what they want from a bank. And Addie is the type to actually write it all out on a list. We know this because she brought us a list of services she expected from her bank. We liked Addie right away, because we are list people, too. We went over her hand-written checklist item by item, assuring her that yes, we can put a little check mark next to "online and mobile banking" and let's go ahead and put a check mark next to every other item on the list because we offer them all. That was the proof Addie was looking for. So it was a short meeting. Addie and Craig have been doing their personal banking with us ever since. We invite you to drop by any of our locations — with or without a list — and discover that we've got what you want, too.
Coastal Hardware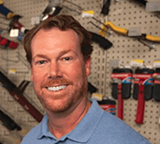 This local hardware store knows local banking really nails it.
Customers know Coastal Hardware president Jason Counts will have what they need from curtain rods to a wood screw. When his banking needs changed, he began searching for a better fit. He wanted a bank that could not only meet but exceed his expectations. He hit the nail on the head when he made the switch to his community bank. PrimeSouth Bank has been investing in our clients and communities for 127 years. As a third-generation local business owner, Jason knows his most important asset is community loyalty. With quick, local decision making and easy access to his banker, Jason gets the answers he needs to insure his business is in the family for generations to come.
Hog-N-Bones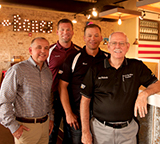 The secret to success isn't always in the sauce, it's in the bank.
Many people start their day a little earlier to have time for the line at the drive thru at Hog-N-Bones. Opened in 2007, the restaurant famous for hot breakfast and slow cooked pork started expanding when their local bank discovered their secret sauce. Market President Bruce Tison liked their mix of local flavor and fast, courteous service because it reminded him so much of PrimeSouth Bank. His business customers are often making their first loan payment while other banks are still working to get their business owners approved. Now franchisees are lined up to be the next local Hog-N-Bones. And their local banking relationship is a recipe for success that's anything but secret.
Lee Hardware & Building Supply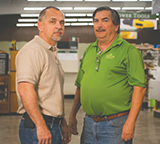 Richard Lee wanted to offer his customers more options.
We get that. It's always worked for us.
When Richard and his wife Denise asked for our help in financing a new, bigger location for Lee Hardware & Building Supply, we felt good about it. After all, we share their philosophy of making things easier for customers. Branch President Bruce Tison not only trusted their business sense, he trusted their integrity. To him and his team, the Lees are not just numbers on a spreadhsheet — they're neighbors. When the Lees asked for a loan, we didn't need to ask anybody in an out-of-state corporate office to approve it. This is the way we've been working with our customers since 1891.
McNeal and Sports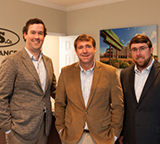 Insuring their future meant starting with the right bank.
Buying a local insurance agency fresh out of college, lifelong friends Dutch McNeal and Sam Sports needed a bank that understood their vision. That's why they put their trust in PrimeSouth Bank. From their first day as business owners in 2010 to their recent expansion, PrimeSouth has been with them as they reached both milestones and obstacles. Market President Ty Wright believes once you experience the level of service from a local bank, you'll never go back to big banks. Together with local business owners like Dutch and Sam, PrimeSouth is insuring the future of our communities.
Okefenokee Cycle Center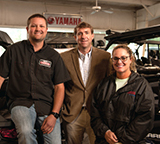 Selling off road vehicles, they liked how local banking handled obstacles.
Okefenokee Cycle Center had been down a rocky road with big banks. Banking was a hassle and it took weeks to get things moving. The local attitude and quick decision making at PrimeSouth Bank was more their speed. Market President Ty Wright makes sure his customers don't just get a bank, they get a dedicated banker who makes them a priority. PrimeSouth helped the cycle center expand their business and become a magnet for off road enthusiasts. Now they see that to make your own path you need a banking partner that's with you at every turn.
Rita Petrawala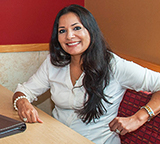 When someone like Rita wants to open a restaurant, we don't wait around to close a deal.
Rita Petrawala knows what she wants, when she wanted to open a restaurant, PrimeSouth Bank was ready to help. Within five minutes of meeting her, we realized that Rita was a born businesswoman of boundless energy. Rita moves quickly and needed a bank that could keep up — PrimeSouth Bank was happy to oblige.
Scientific Turf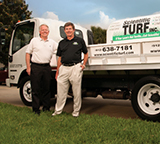 Banking is better with the home turf advantage.
For Clark Hendley, finding a bank to fund his startup, Scientific Turf, was not easy until he walked into his community bank and met with local banker, John Rogers. Today, 23 years later and with locations across the Southeast, Clark is still banking with the people that have been there from the start. From startup to expansion, PrimeSouth Bank knows backing small business is key to the growth of our communities. That's why we roll up our sleeves and help you weed out financial obstacles. Clark's success is based on nurturing and finding just the right formula to fit his clients' individual needs. That puts him and PrimeSouth Bank on common ground.
Southeast Mower and Saw Shop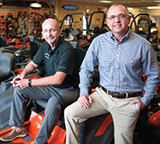 Roger day owns a mower and saw shop, so he can spot a good edge.
Even before Roger Day started Southeast Mower and Saw Shop in 2003, he had already found a powerful edge. Banking locally with PrimeSouth Bank for 19 years meant he could cut out the layers and slow pace of big banks and work with a banker who knew him as a neighbor. Though Market President Bruce Tison admits he didn't know the lawn mower business, he knew Roger and that helped determine his decision. Roger always knew the grass was greener at his community bank. Because with PrimeSouth, he has the edge of a local bank that knows he can cut it.
Zachry's Restaurant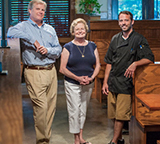 When Barbara needed a bank, she didn't have to look farther than booth 5.
That's where our branch president, Danny Maddox, could often be found, dining at Barbara Zachry's restaurant on Jekyll Island. Back in 2010, Barbara had decided it was time to open a new place in Brunswick. She figured, why not give the business to one of her best customers? Danny concurred. He swiftly arranged the loan that made Zachry's Restaurant possible. (Barbara has always provided him with prompt service, and he was happy to return the favor.) Danny's a regular at the new place, which is around the corner from our location in Brunswick. We invite you to drop by the branch and see if we can't help you with your banking. We've got some great suggestions, including where to find some really good seafood.