Our bank is built around you.
At PrimeSouth Bank, you're more than an account number. We take the time to get to know your name, your preferences and your needs. Take a look at some of our clients' stories below — and reach out to tell us yours. Email [email protected].
Community Chapel Funeral Home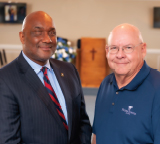 A local funeral home needed banking with the same goals.
Harold Stewart never forgot playing high school football with Randy Teston. When he decided to tackle his plans to build Community Chapel Funeral Home, he knew who he wanted on his team. Randy saw that Harold's vision could be a big win for their community. Local businesses provide much needed services, especially when what's needed is the human touch. Harold chose local banking for that same sense of connection, getting the answers and resources he needed without going through layers he didn't. Harold's teammates always knew he had heart. What he needed was a banking partner with a heart for community.
L to R: Harold Stewart, Owner, Community Chapel Funeral Home and Randy Teston, Jesup Market President, PrimeSouth Bank.
The Boat House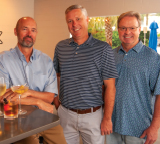 Two friends knew local banking would be the recipe to The Boat House's success.
Spurgeon Richardson wanted to open a restaurant on Amelia Island with one condition: Chef Chet Huntley. Longtime friends, and two of Atlanta's most successful restauranteurs, they planned a family friendly restaurant in Fernandina's historic downtown that would utilize locally sourced ingredients and need a local bank which saw their vision. Luckily, they knew the bankers at PrimeSouth, whose quick decisions and flexible solutions were just what they ordered. Chet says their real reward in opening The Boat House is making customers happy. His bankers say that isn't just a reward, it's the reason they work at PrimeSouth!
L to R: Spurgeon Richardson, Owner, The Boat House, Josh Mattox, Nassau County Market President, PrimeSouth Bank and Chet Huntley, Owner, The Boat House.
City Market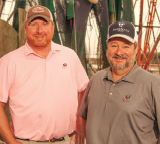 City Market values banking with local flavor.
City Market owner, Frank Owens, feels blessed and so do his many happy customers. He is the third generation to bring in the catch that hooks locals and tourists alike. His fleet supplies restaurants throughout the Golden Isles, and keeps customers lining up at his Brunswick seafood shop for fresh shrimp and fish. That's why Frank would never settle for the stale promises of big banks. He likes relationship banking, especially at PrimeSouth, with bankers he knows can make things happen and make him feel like family. When you work on the water, you need bankers with their feet on the ground.
L to R: Frank Owens Jr., Owner, City Market and Curtis Tumlin, Glynn County Market President, PrimeSouth Bank.
Lang Building Supply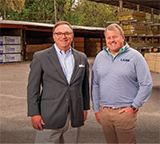 Lang Building knows our local banking nails it.
Blase Grady had made it in corporate America. Yet he was glad to make the move from Atlanta to the coast to become President and CEO of Lang Building Supply, Glynn County's longest running business. He enjoys living blocks from the ocean, but finding a nearby local bank that shared his outlook was even more refreshing. He especially likes our lower fees, and the way our local bankers save time and effort. For us, making things easier for our local business partners is the real reward.
L to R: Charles Woodruff, SVP Senior Lending Officer, PrimeSouth Bank and Blase Grady, President and CEO, Lang Building Supply.
Michelle's on Main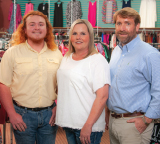 Michelle's On Main knows community banking is the best fit.
Michelle Davis always held on to her long-time dream of owning a boutique. Luckily, she and her husband, Burley, had also held on to their long-time local banker. Ty Wright was there for them when they opened their popular store, Davis Feed. So, when Michelle wanted to convert the former Bennett's Hardware into a clothing boutique, Ty gave her a quick "yes". It wasn't long before Michelle's on Main was drawing people from all over to Blackshear's Main Street. Ty may come in for his favorite brand of shoes, but it's Michelle's dream that was the perfect fit for his banking expertise!
L to R: Kagan Davis and Michelle Davis, Owners, Michelle's On Main and Ty Wright, Blackshear Market President, PrimeSouth Bank.
Tipsy McSway's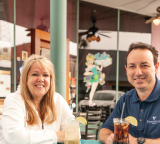 At Tipsy McSway's, success isn't just location, it is well placed faith.
Susan Bates always felt downtown Brunswick needed more. When a perfectly located building came up for sale, she knew the perfect tenant! Tipsy McSway: a character Susan created. Part Dolly Parton, part favorite Barbie, Tipsy's name and spirit would soon come to life in her namesake neighborhood bar and grill. Susan immediately sold us on her idea, as we knew her character, and had faith that her energy would help revitalize downtown. Now, we are her regulars, and are currently helping her take off with Tipsy McFly's Airport Bar & Grill, her newest venture which opened in May 2022!
L to R: Susan Bates, Owner, Tipsy McSway's and Joe Riccio, Senior Commercial Lender, PrimeSouth Bank.
Western Sizzlin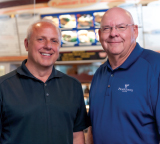 Western Sizzlin prefers banking well done.
His seasonings are so good they are patented, but Terry Nickell's banker and favorite customer is who he says deserves five stars. Randy Teston has banked Terry for decades. Terry likes that Western Sizzlin lets him give his restaurant its own local flavor. He finds that same spirit in Randy who takes a personal interest in seeing they have what they need. This mattered when Randy guided Terry through applying for Covid-19 relief funds to keep a staff that feels like family. Restaurants have felt the heat, but Terry and Randy have a warm relationship that is, well, rare.
L to R: Terry Nickell, Owner, Western Sizzlin and Randy Teston, Jesup Market President, PrimeSouth Bank.